Celebrities love gold and sterling silver threader earrings, and it is growing like wildfire. What is this exactly? This unique design is exactly what its name suggests. The earring is threaded through an ear. The threaded part is made of a solid piece that acts as a needle. The front is made up of a piece of chain with a charm or some other object at one point that stops the earring from pulling through.
You can find a variety of lengths and styles in silver and gold threader chain earrings. Some styles can reach the shoulder, giving them a dramatic and elegant look. Some styles are shorter but still stylish. The front chain can be made in a variety of styles, including a box- or serpentine design. Each has a unique look.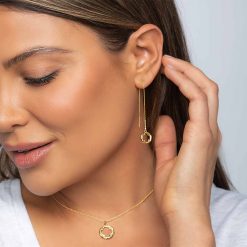 It's not a simple style
You have the option to express yourself in sterling silver and gold threader earrings. The basic idea is a short chain that hangs from your lobe. However, multiple piercings can create a completely new look. This would require the earring to have a longer, plainer style.
This is done by threading the earring back and forth through the numerous holes. This creates a draped effect. The look is made even more dramatic by adding a charm or a bead. This unique design is a great gift idea for girls who love fashion and want to stay trendy.